On November 18 was held at the Universidad Laboral de Gijón IX Encuentro National Apprenticeship Service. In the framework of this meeting took place the ceremony of the first edition of the Premios Apprenticeship Service (APS) and conducted a series of conferences and training workshops where they share different experiences awards.
Service Youth Foundation was present at the conference with #ProjecteCanSoler, who was one of 14 finalists chosen from more than 170 submitted. During the awards ceremony, highlighted by organizing the large number of projects submitted this year for quality.
In an auditorium with seating fulfilled, opened the event with a video-conference where Federico Mayor Zaragoza, humanist and Deputy Director-General of UNESCO between 1978 and 1981, in which he emphasized the APS as a motor social change that contributes to form free and responsible citizens. Then they handed the prizes to the winning projects and finalists statements. The #ProjecteCanSoler received mention in the promotion of an inclusive society that workers collect Foundation present at the ceremony, Joan and John Blas Gubern.
Then took part representatives of the Red Spanish Learning Service, including Roser Batlle, who defended the idea that the main reason to implement the APS is that it really works because it improves academic performance and coexistence in the classroom, combining educational success and social commitment, therefore, is a true service learning in the tide every day they are adding more schools and organizations.
He closed the blog morning Jaume Funes, in a conference that addressed issues such as education, knowledge or school and society and defines the APS as a powerful learning tool, it also strengthens the commitment social students.
In the afternoon several workshops were held where some schools and organizations presented their winning projects. Before an audience very interested and participative from Fundació Els Tres Turons was shared task that is from the Youth Service in relation to the promotion of community mental health. Detailing specific experience of #ProjecteCanSoler, there were several ideas and concepts which were discussed with the other participants, such as playing the role of experts in youth activities with children, empowerment and strengthening this means that respect the processes of psychosocial rehabilitation of young people, the community service is performed to recover a degraded natural environment or the fight against the stigma related to mental illness prevention and educational work that is done with schools.
Finally, the professionals of the Foundation wanted to defend the effectiveness of the methodology of the Learning Services and the ability to play the application of this model by other services or organizations.
Joan and John Blas Gubern indicate that "participation in the conference in Gijon was a very enriching experience, we know first hand the projects that are being developed around the country in many different fields, in addition to share our own experience in the application of Service Learning Servei de Joves Fundació Els Tres Turons. "
Pictures of the event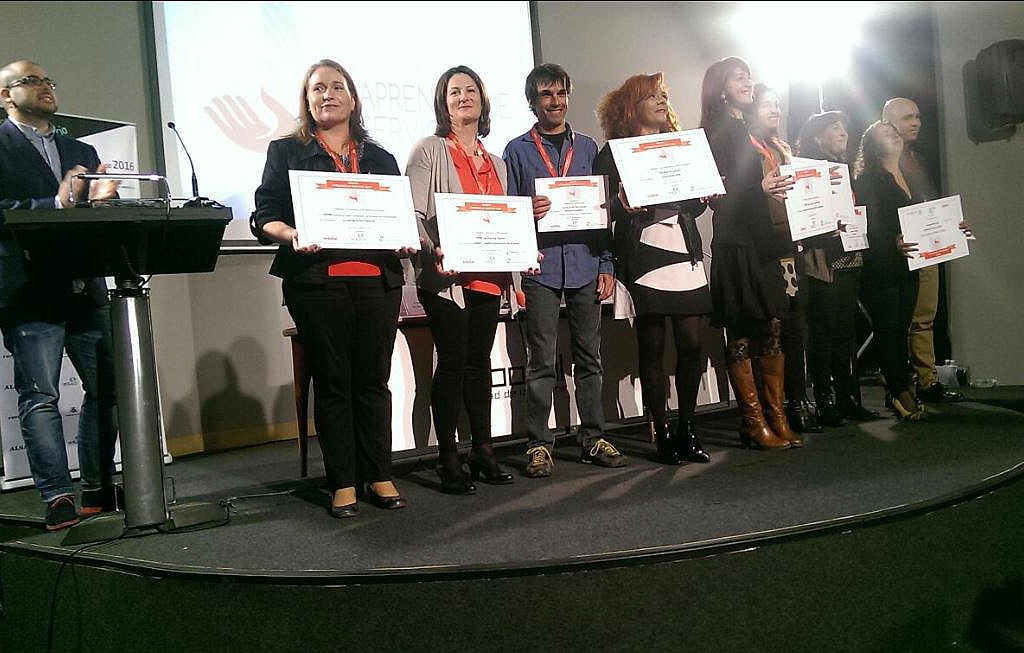 Information of interest
Winning projects: https://goo.gl/Weahz8
Finalists: https://goo.gl/7ocLkZ
Video of the event: https://goo.gl/lq1L3C
Verdicts of the jury: [download id="3761″]
The Project Can Be Used To: [download id="3763″]